All our news is now on our FACEBOOK page!!
---
CLICK TO OPEN
December 16 2012
-
Grand Opening!!
Aunty Kay was overjoyed at the response of clients, friends & former colleagues. There was coffee, cakes, croissants & competitions.
The "pesky pup" Bonnie had the privilege of performing the official opening but 3 times. It was all a bit exhausting pretending to chew through the magenta ribbon, so she took to her bed for the rest of the party! She may have been overcome by the presence of her breeder and littermate whom she had not seen since she was 8 weeks old. I doubt she was overawed by the presence of 2 German Shepherds, as Bonnie loves to socialise with dogs of all sizes.
As for the competitions, Aunty Kay forgot to ask her most tricky question: Which animal's gestation period best fits with the time it took her from securing the real estate rental to opening the clinic? No, not an elephant's, but is sure did feel like it!
The answer is human: & 8 1/2 months was the gestation period for both Sydney Road Veterinary Clinic & Aunty Kay's mother when she was pregnant with little Kay.
Love & purrs,
Fifi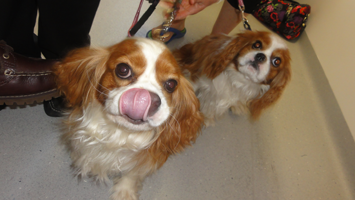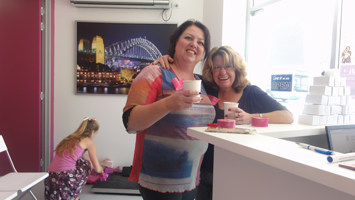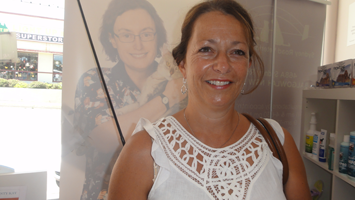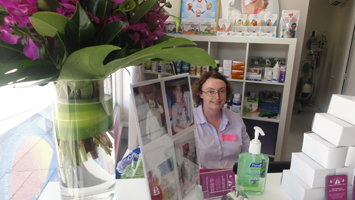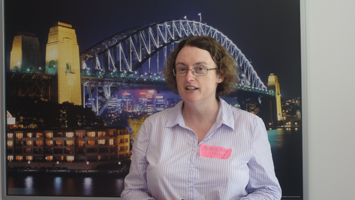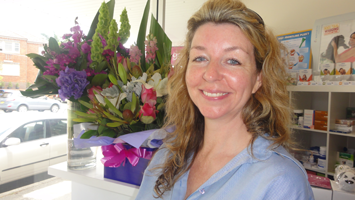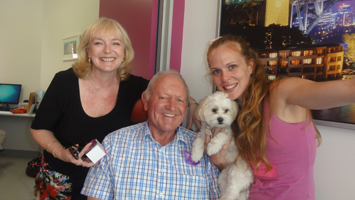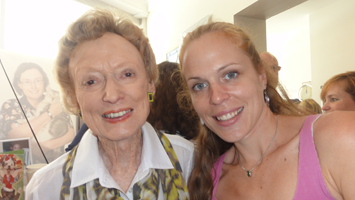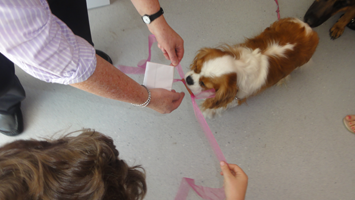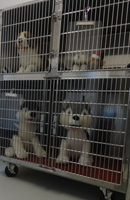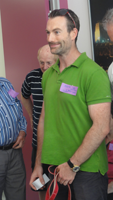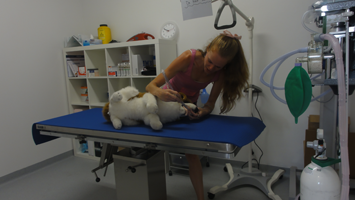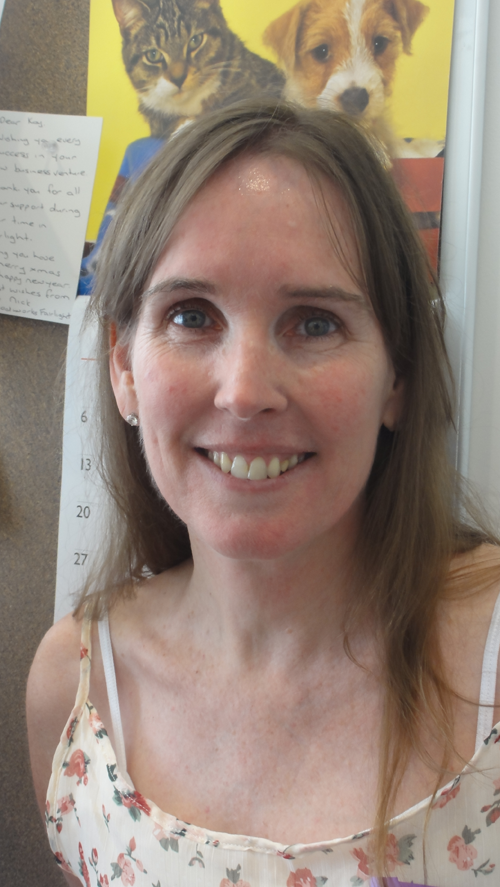 November 8 2012
-
May the fit-out begin
I have had to temporarily remove the lifesize photo of Aunty Kay & my gorgeous self to make way for the Fitout Team. Nothing to do with some recent comments about "Underbelly" ...not the TV show...but my tummy size. It's actually looks more prominent due to my undergirth being white which is highlighted against my silver locks. In fact, I am only a little on the "paunchy" side, not purr-fect, but as close to as a feline can get!

May the Fitout begin!

Love & purrs,

Fifi
October 29 2012
-
Vet Nurse of the Year nominee, Emma is joining us
Staff Update Episode 2

I am overjoyed to announce the appointment of Veterinary Nurse of the Year 2012 Nominee Ms Emma-Calida Danne. In recent weeks she has been the star of print & radio. I am especially pleased as Emma knows me well. All my needs & wants will be attended to purr-fectly.

Aunty Kay's niece pup Episode 5

The day after Bonnie's sojourn at the Small Animal Specialist Hospital (SASH), she went to the nursing home to visit Great-Aunty & Great-Uncle. Clearly the seniors were getting too much attention, so she stole the limelight & swallowed a bee! There was a frantic phone call to Aunty Kay, but the pesky pup was fine.

Love & purrs,

Fifi
October 19 2012
-
Staff Update Episode 1
Thankfully I had time this week to appoint one of my favourites, Ms Danielle Coombes, to part-time veterinary nurse. She won't need much training. She already knows my favourite food, how I like my bed made & how my bathroom needs to be arranged. Welcome on board, Danielle!

Love & purrs,

Fifi
October 18 2012
-
Bonnie swallowed a stone
Aunty Kay's niece pup, Episode 4:
The beginning of the week, this time, Aunty Kay had to "down tools" once more, as Bonnie was clearly unwell. So off to consult wih Dr Justin at the Small Animal Specialist Hospital (SASH). He was so patient with the pesky pup, who this time had swallowed a stone. After lots of medicine & a night of constant attention in hospital, the stone was retrieved. A close escape from surgery, Miss Bonster the Monster.
Love & purrs,
Fifi
The Pesky Pup (Bonnie) on holiday!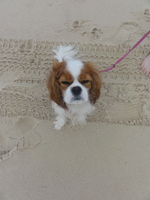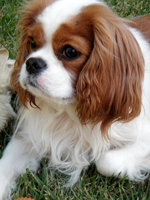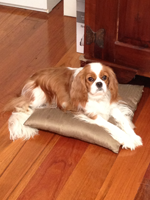 October 01 2012
-
Dog Day at the Bay
Another busy week for me. Little time for my beauty sleep.
I has to organise Aunty Kay's niece pup for Dog Day at the Bay. Thankfully we are a similar size so I was able to be the model for the bandana prototypes. I was rather pleased with the final number: a white background with the magenta clinic logo. Naturally it looked rather stunning against my silver locks. But I did have to draw the line at attending a day for the lesser species!
I am intent on getting an easy phone number for our patients to remember. Certainly a Balgowlah prefix, followed by 3-4-3-4 for F-I-F-I would be purr-fect. How could anyone forget that.
Love & purrs,
Fifi
September 16 2012
-
Busy week at the new premises
I have had a very busy week organising all my humans into action. The premises are about to be transformed.
A hiccup midweek when Aunty Kay 'downed tools' as she held the paw of her niece pup whilst she was treated by the lovely vet Christina at the Smalll Animal Specialist Hospital (aka SASH).
Naughty Bonnie has eaten something decaying & disgusting. How one Cavalier King Charles Spaniel could swallow a whole ringtail tail is beyond me! I am wondering if Bonnie is developing Munchausen's as it was her third potential emergency in 3 weeks. Very helpful, not, when "Aunty Kay" is not yet up & running. It is not like Bonnie does not get enough attention at home. Poor Andy Thomas, a member of the higher species like myself, is constantly harrassed by her. It is rather amusing though when he follows on walks, as they are both ginger & white ....& one of their owner's has the same colour of ginger hair!
Love & purrs,
Fifi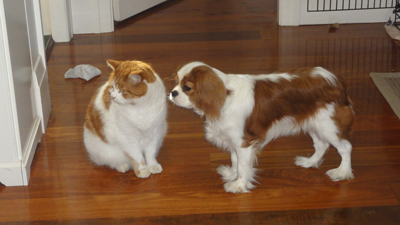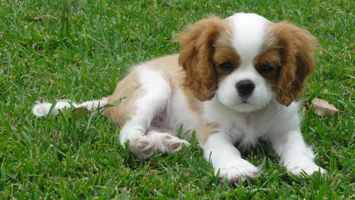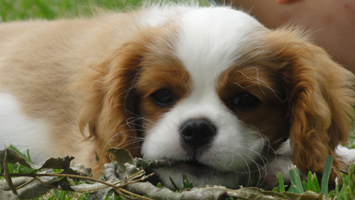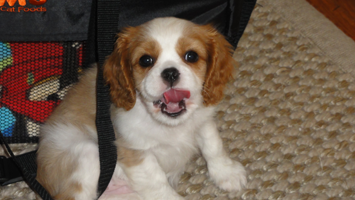 September 8 2012
-
Nice to meet you!
For those of you who do not know me, I am FiFi, Practice Supervisor, feline, for the soon to be opening Sydney Road Veterinary Clinic.

My interests include chewing plastic, being in charge, playing with mousey toys & kittens, & typing. Once I managed to type a Chinese character, a feat that no other colleague could achieve. Above all however, I love helping the nurse to count the day's takings. I roll over & expect lots of pats. As you can imagine, I am very helpful when I do this.

Aunty Kay's interests on the other hand are rather limited: vet, family, vet, vet, vet. She loves nothing more than an evening veterinary seminar where she can meet up with her friends, eat & sit in the front row for the lecture! She has also worked in Singapore & the UK.

Look forward to you all admiring me soon,

Love & purrs,

Fifi
July 26 2012
-
Photo Shoot
Hi All, As many of you know, today was my (& Aunty Kay's) photo shoot. It is more tiring than you would think, posing & smiling for so many shots. (I should have gotten some tips from Milly's mother Jen H first). Then the big decision of which ones I look best in....really hard to decide.
Thankfully I was having a good hair day so I did not have to coerce my new boyfriend into being a body double. (He is a silver tabby too but unlike me he is tall & muscular without the underbelly). I am quite sure he is besotted with me, as he will scale the fence in 1 bound, just to see me, then I hiss a little to treat him mean/keep him keen. Kay initally thought he was a silver tabby Bengal, but now we think he is a true domestic short hair aka "moggie".
This is my practice for blogging for the clinic. My long service leave is hopefully over soon. Aunty Kay is bored.
Have a purry day,
Fifi Gerry
(Future) Practice Manager
Sydney Road Veterinary Clinic