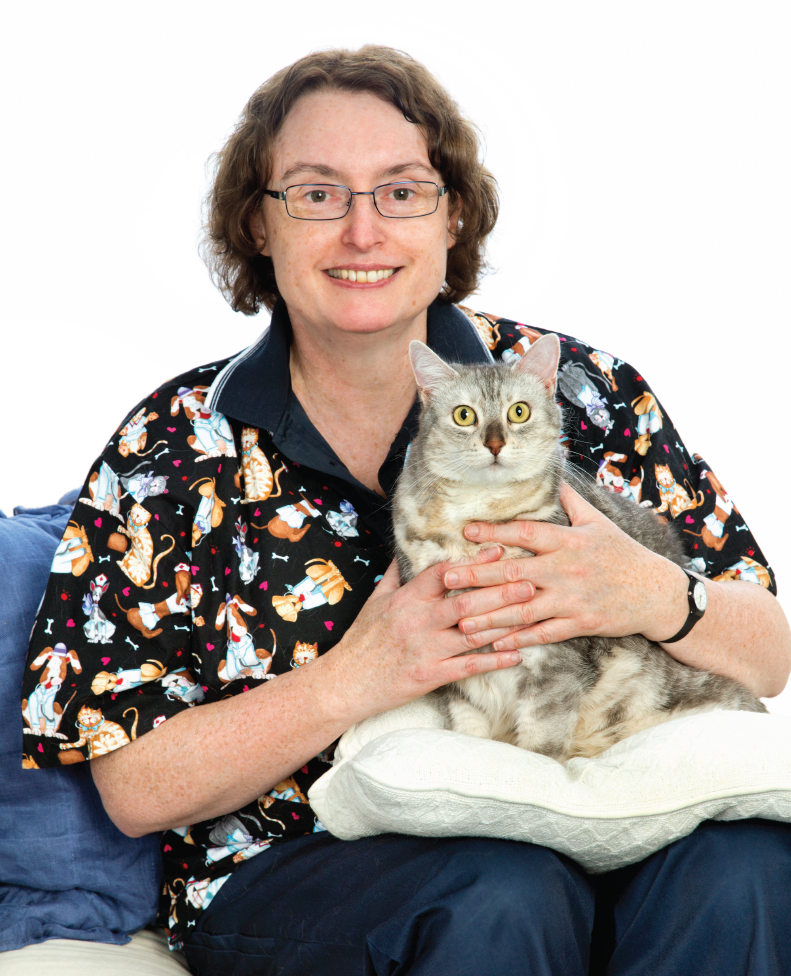 Dr Kay Gerry
Kay has gained a wealth of experience and knowledge working as a locum veterinarian all over Sydney and has worked for several years in the Manly area before opening the practice.
When not at work, Kay likes to attend veterinary lectures, both evening and week-long, and enjoy her family.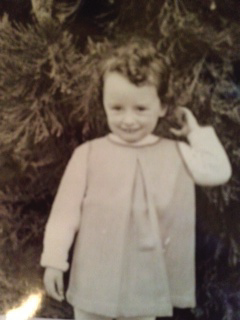 Aunty Kay - the early years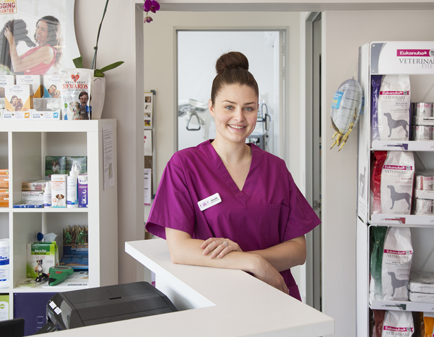 Danielle - Veterinary Nurse
Danielle hails from Perth. Thankfully she has married a Sydney lad. She has her Certificate 4 in Veterinary Nursing. Her other more recent achievements include producing 2 lovely children since the clinic opened.  She has returned to work in Team Fifi 2 days per week despite now living half way to Campbelltown.  Rescue rabbit Flopsy continues to be her 1st born.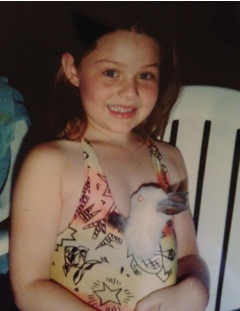 Danielle and Snowy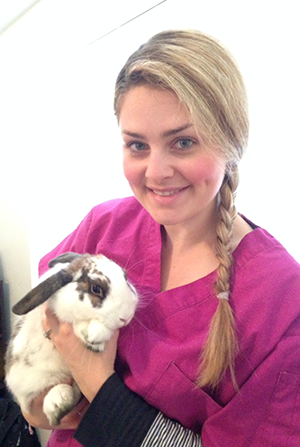 Danielle and Flopsy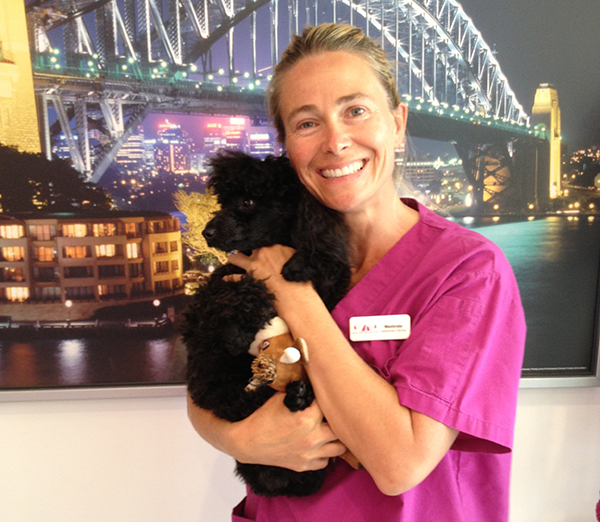 Melinda - Veterinary Nurse
Melinda has had a 20 year career in Veterinary Nursing & Practice Management. Understandably we are very happy
that she can help us part-time whilst raising two small children, two cats, one dog and one husband!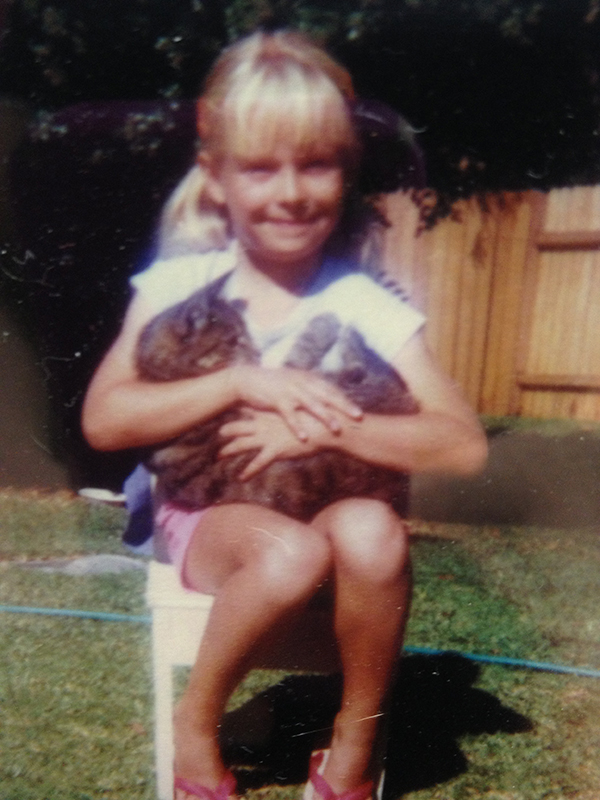 Melinda and Muffy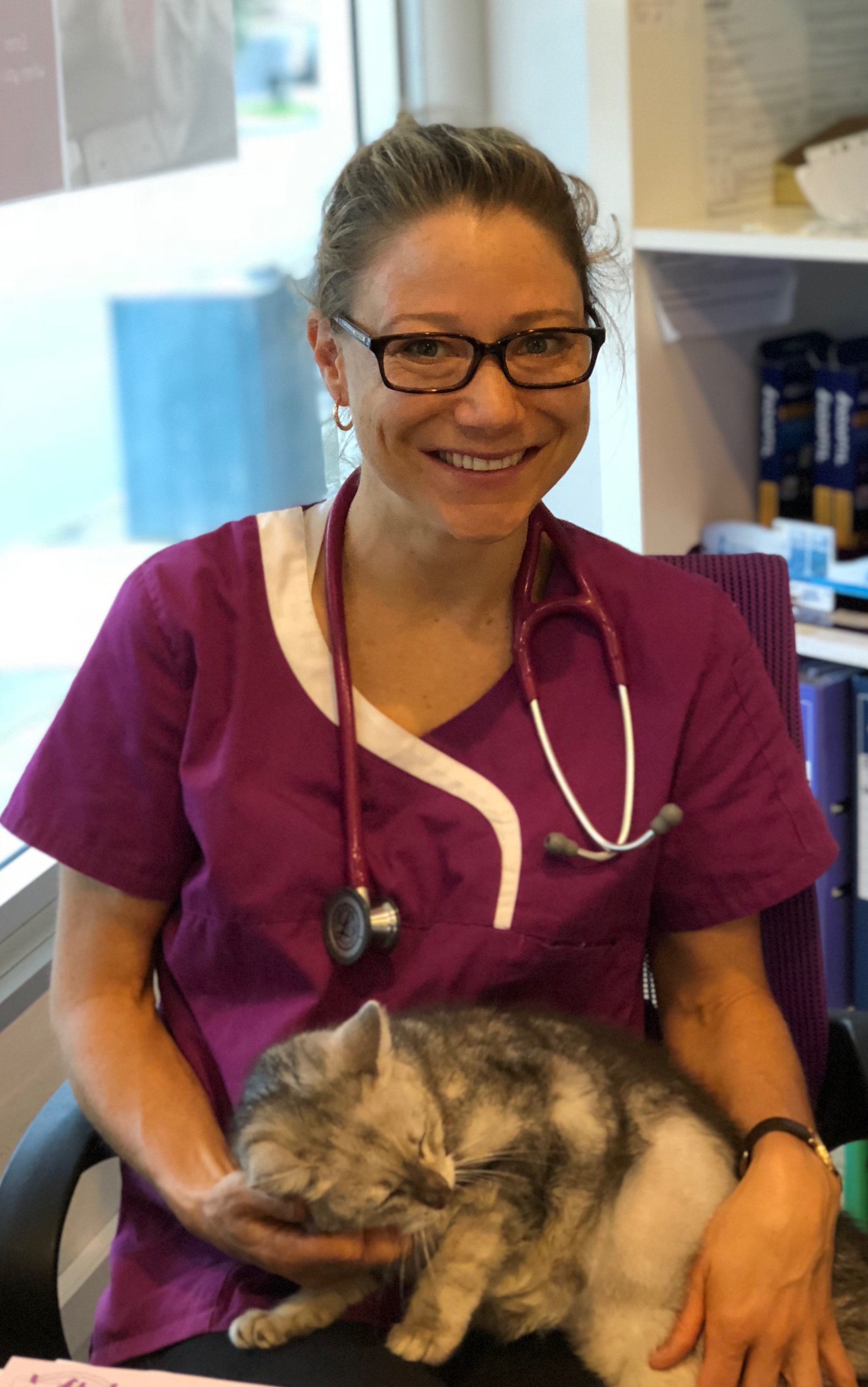 Dr Joanna O'Connor - Veterinarian (Locum)
Dr Joanna O'Connor grew up in Sydney. She first met Aunty Kay when she was about 15 years old with her first ever pet, Misty, her beautiful silver tabby!  No wonder, Dr Jo & Fifi have such a special bond.
 
Jo graduated from Sydney University in 2004 started working as a vet on the Northern Beaches, then headed to the UK for a couple of years to work as a vet and travel, then she returned to the Northern Beaches and has been here ever since working in small animal general practice. 

She loves every part of general practice and considers herself very lucky to wake up every morning and go to "work" doing what she loves.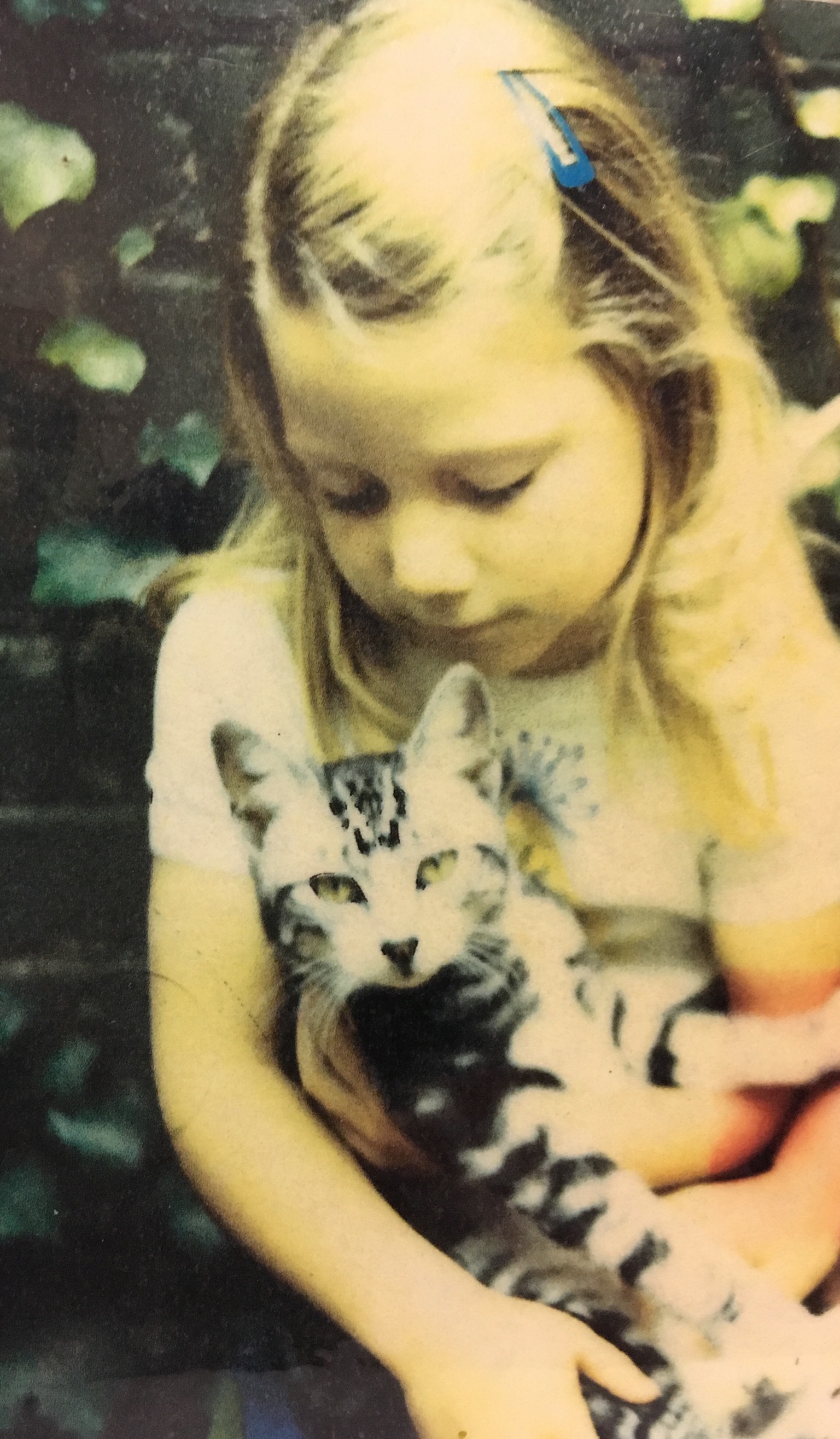 Joanna and Misty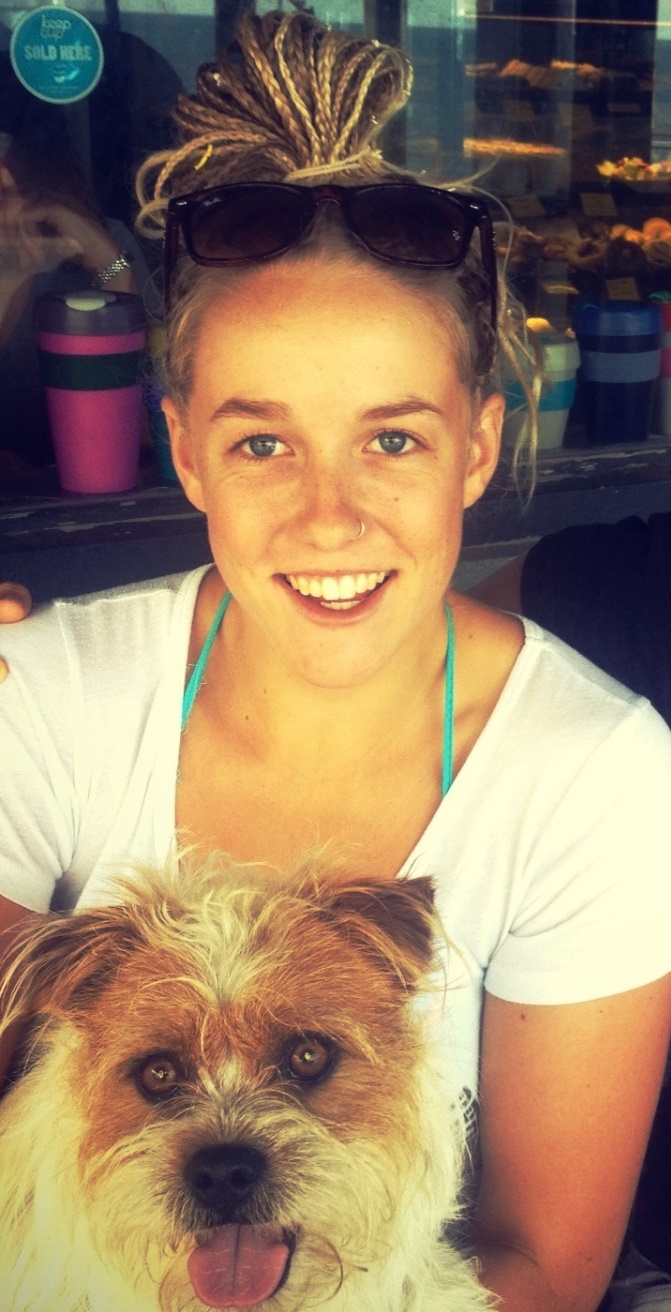 Francesca and Fergus
Francesca - Veterinary Student

Fran came into the clinic to purchase some products for the family's five pets.
Aunty Kay suggested that since she had so many pets, she ought to be studying Veterinary Science, to which she replied, "I am!"
It was just a random comment from Aunty Kay.
Then Fran was speechless when offered some casual work which is always a vet student's dream. Every clinic needs a good vet student, and in Fran we certainly have that.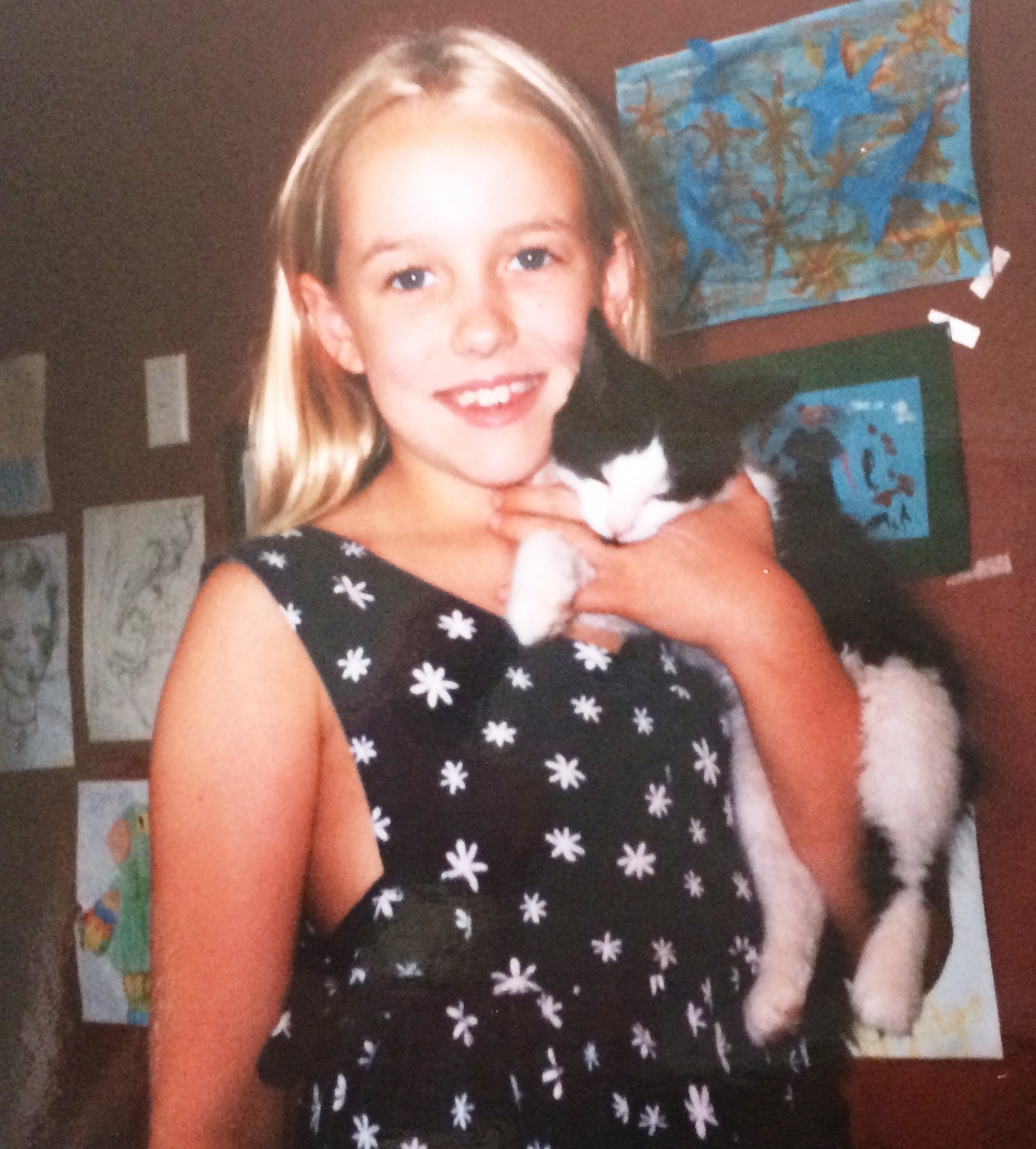 Francesca and Kinky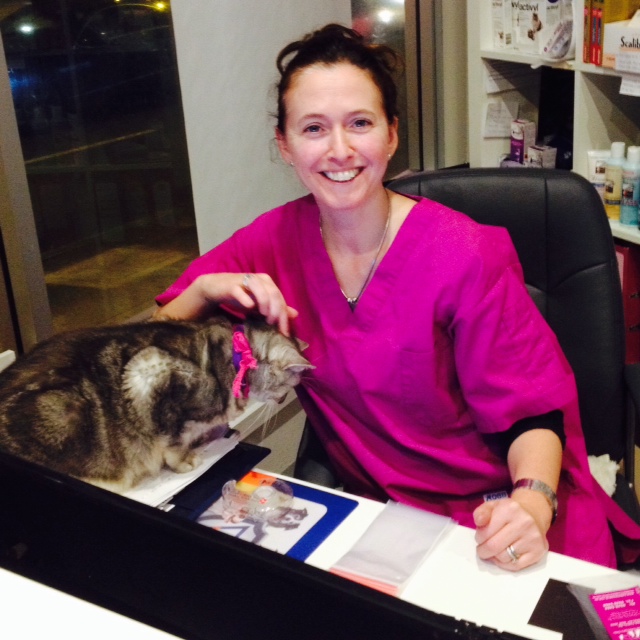 Josie and Fifi
Josie - Veterinary Nurse

Josie has a wealth of nursing experience in Ireland, the UK and Australia, before taking a break for seven years to raise two lovely boys along with her husband.
Josie used work where Aunty Kay and Fifi worked previously, however never at the same time. She has also worked in animal welfare organizations and even volunteered for seven months in zoos in Indonesia.
Fifi's occasional tantrums will not register with Josie who is used to really wild animals.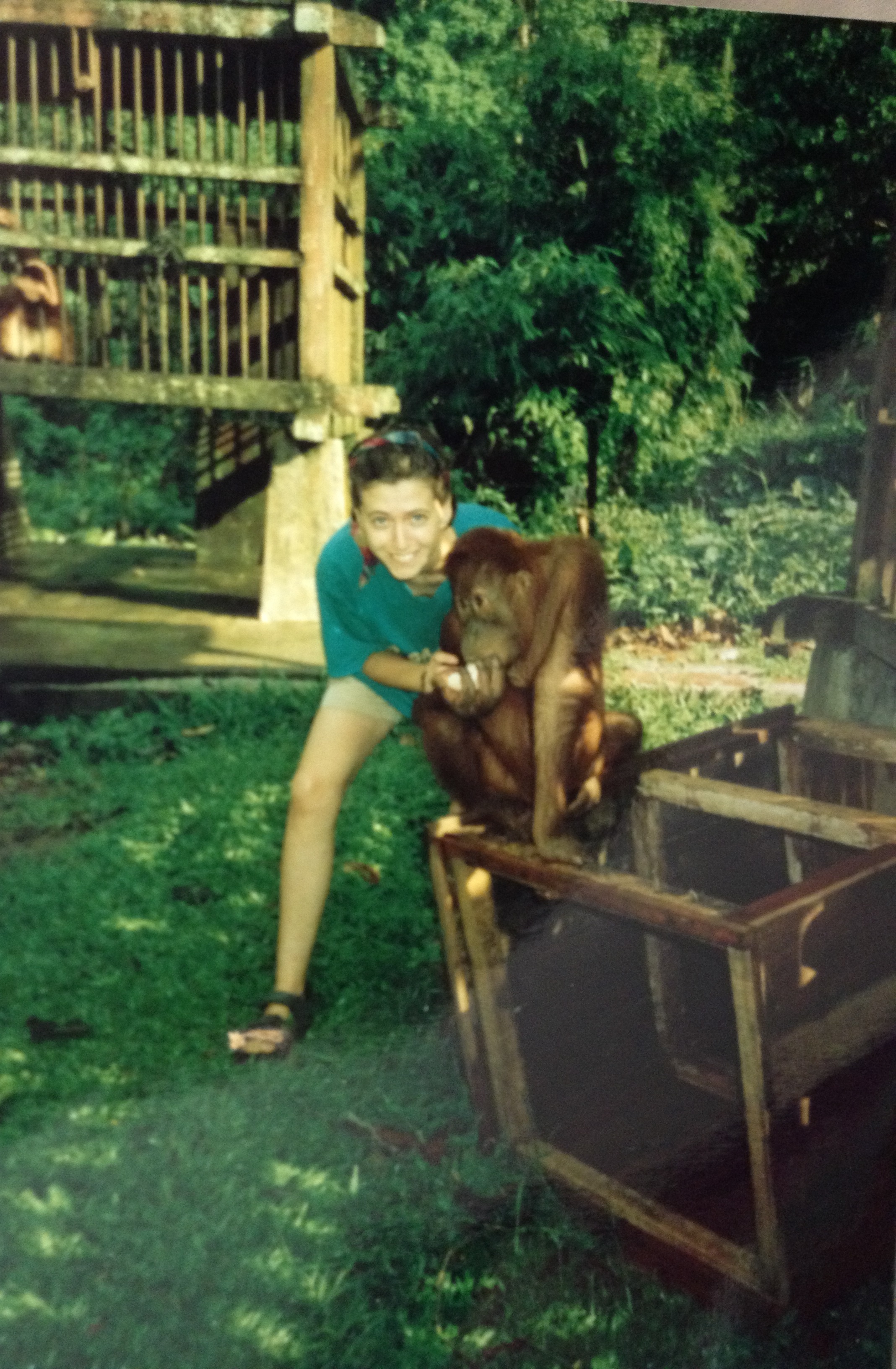 Josie in Indonesia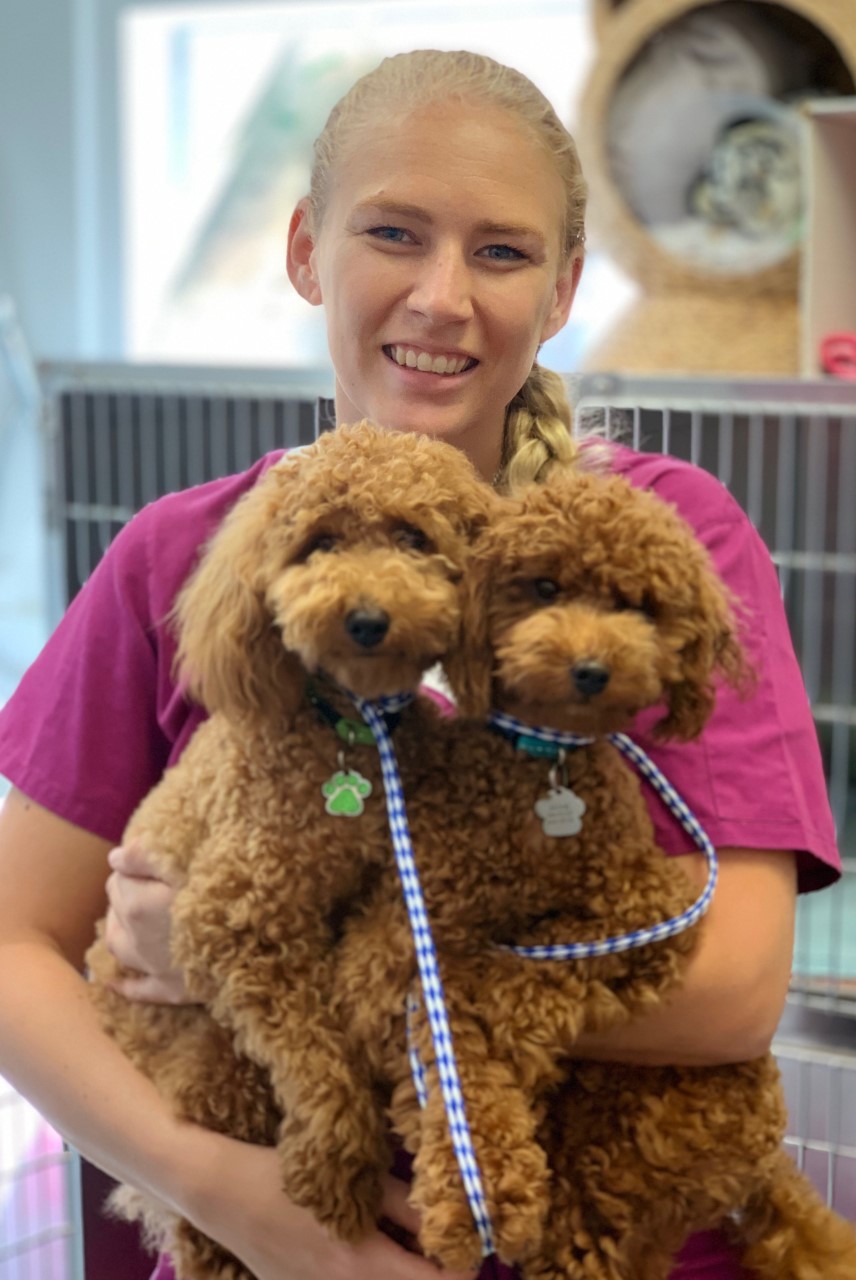 Dayna and Cavoodle Brothers
Dayna - Veterinary Nurse

Born and raised on the Central Coast of NSW, Dayna grew up with lots of siblings and pets.  She is particularly keen on Staffies and Jack Russell Terriers, though it seems felines are stealing some of her affections lately, between her father's cat Alfie and of course, our Fifi.  Dayna recently completed Certificate 4 in Veterinary Nursing.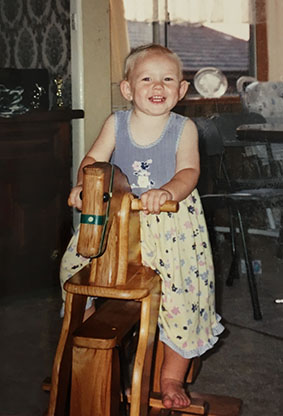 Dayna riding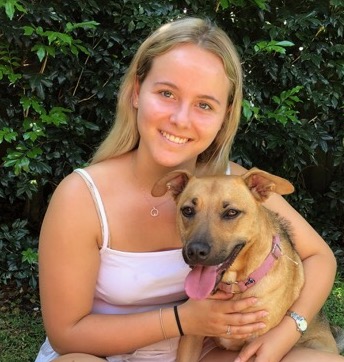 Hannah
Hannah - Science Student, University of Sydney

Hannah first came to us as a volunteer in the cattery every Saturday morning for 3 years from the age of 12!  Then she was promoted to being one of the hostesses at a more recent of our parties.  Aunty Kay has treated 3 out of 5 of her childhood pets here at the clinic.  Now all grown up and at Sydney University, she has Nelly the dog as her study-buddy.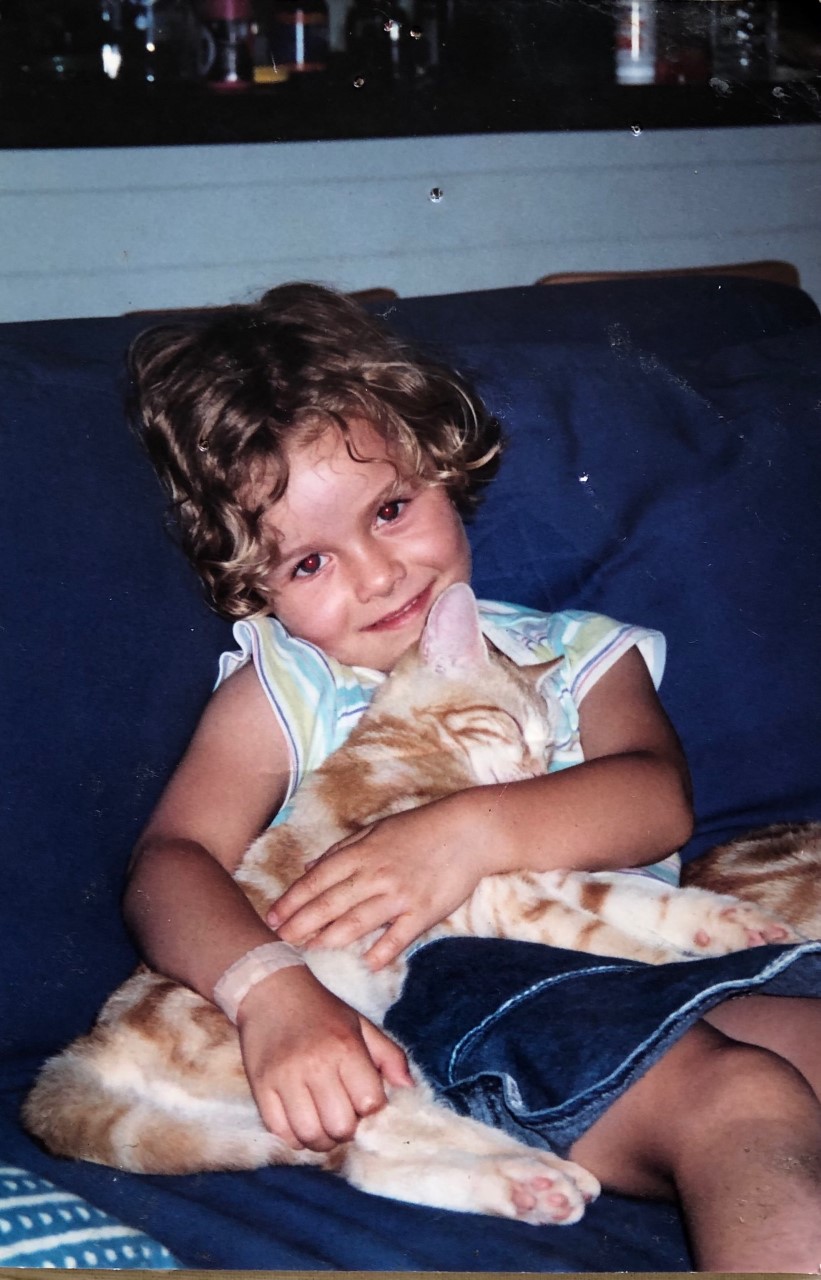 Hannah and Ginger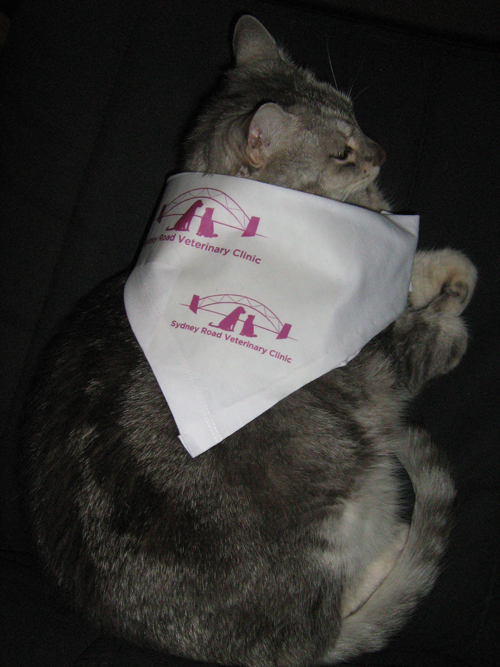 Fifi - Practice Supervisor, Feline
Fifi believes she is the most important member of the team. She loves to spread her fluff and love around the clinic.
In 2014 Fifi won the Best Vet's Pet Photo Competition so appeared as the cover girl for a veterinary magazine and received $700 in her favourite cat food and veterinary books!
In 2015 she beat about 220 cats to become Runner Up National Winner Veterinary Clinic Cat of the Year! Having done a number of ads within the vet world and having those several competition wins, Fifi is now arguably the most famous vet clinic cat in the southern hemisphere!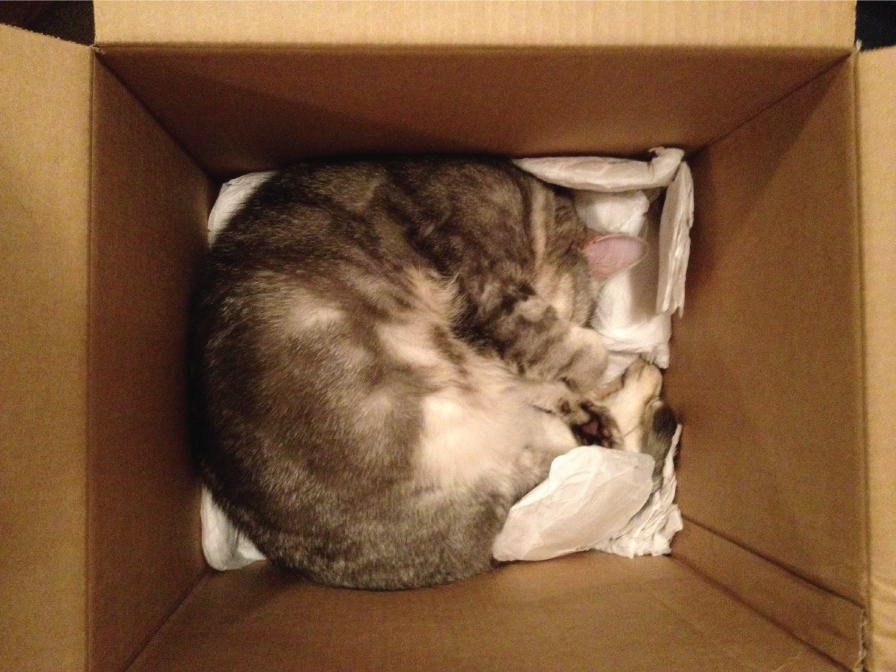 Fifi coordinating the unpacking
at the new clinic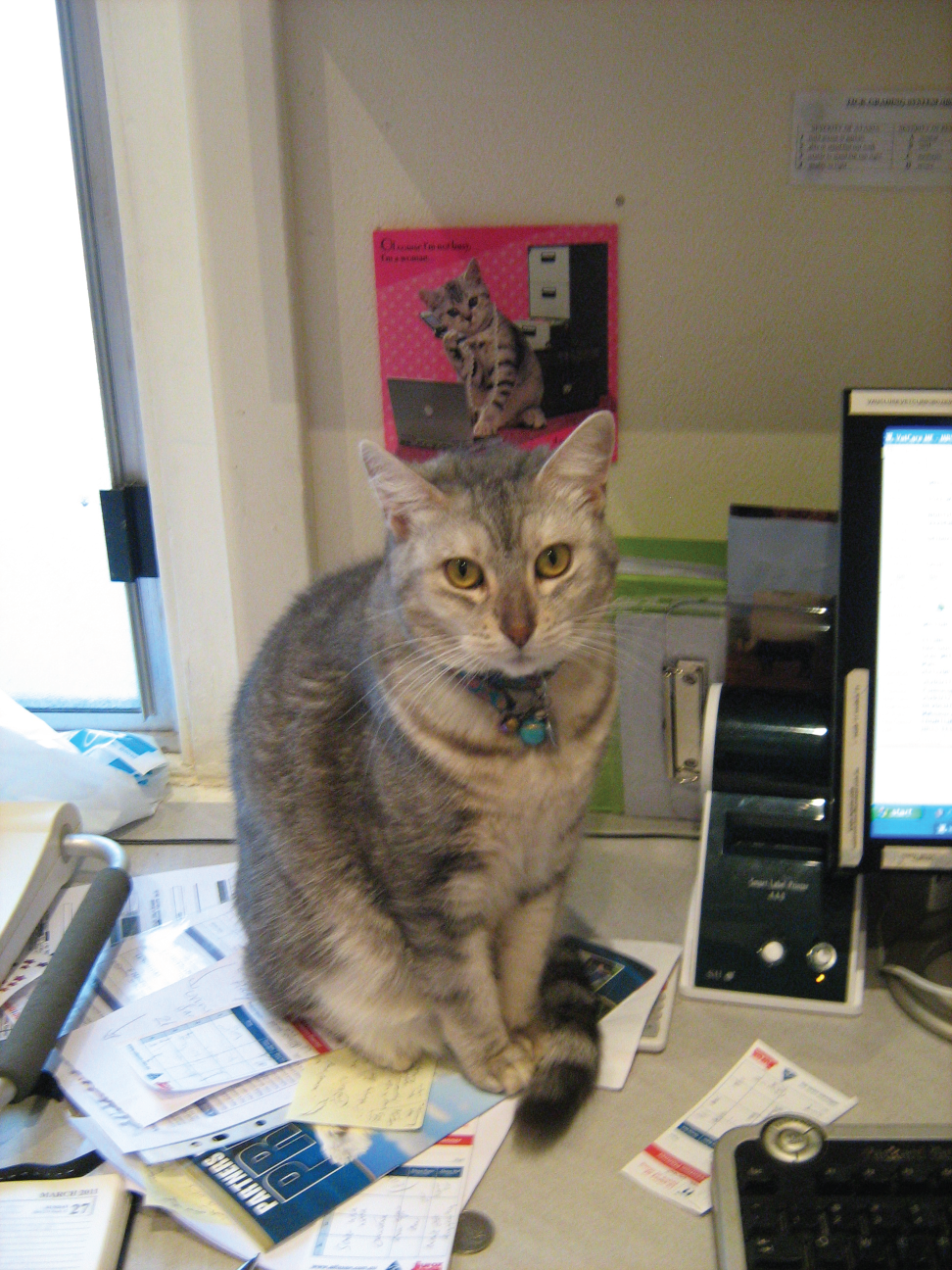 Fifi doing paperwork